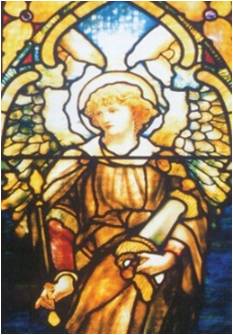 Who is Archangel Jophiel?
The name Jophiel means "Beauty of God." Archangel Jophiel serves on the second ray of God's wisdom
in us. He illumines our understanding of cosmic law. He is the protector of the earnest seekers of truth.
Archangel Jophiel's retreat is located over China.
Archangel Jophiel imparts gifts of illumination, wisdom, Self-knowledge, understanding, inspiration,
clear seeing, and connection with your Higher Self. He provides assistance with absorbing and retaining
information; studying, passing tests; freedom from addictions; mental health; open-mindedness.
Archangel Jophiel amplifies the wisdom of God thru correct use of the crown (Sahasrara) chakra. His
blessings are magnified on Sundays.